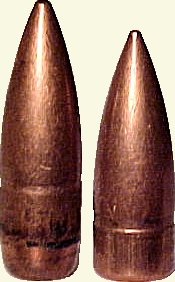 Detecting steel cored bullets
Chinese steel cored ammunition was banned in USA as of February 1994, as all Chinese ammunition uses bullets having a copper plated steel jackets, a magnet is of no use, because it will sticking to the steel bullet jacket and not the steel core. The only way to tell if the round has a steel core is to pull a bullet. Steel cored bullets are over 1" long, have a boat tail, they will also have traces of black sealing compound on them.
In the comparative picture the steel cored bullet is on the left and the lead cored one on the right.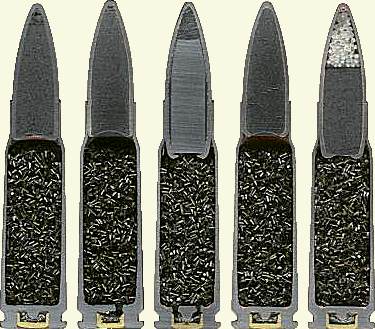 The cartridge in the centre of the group at left, has a steel cored bullet. The others on either side have lead cored bullets except the one on the extreme right that is an experimental round with plastic beads in the nose.
Only Chinese factories numbered 31, 71, 311 and 351 made lead cored ball. (maybe 61 also, but not sure) [Jeff's note]
Any other Chinese factory code will be steel cored bullets.